Galvin Green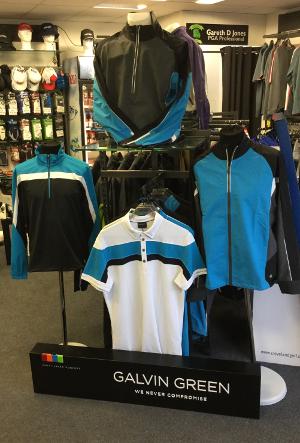 Galvin Green C-Knit is a new technology which has just been unveiled for 2017. The latest garments feature the very latest technology which Gore have to offer - never before seen in the golf market. The new waterproof fabric makes use of a three layer structure with the "C-Knit Backer" which has been designed to "slide and glide" across any garments worn beneath the jacket itself. This technology was first unveiled within the Galvin Green Ryder Cup Team Europe outerwear collection last year and is now available to you.
Replacing the two layer membrane, the Galvin Green C-Knit fabric is super lightweight, more durable than ever and even softer to the touch - offering a feeling of extreme quality. The same degree of waterproof protection and breathability is assured.
One of the biggest issues with golf waterproofs is the risk of seeping through the collar area of the jacket itself. Brands can only go so far to make the fabric itself waterproof, but if water leaks through to your body via your neck - then you're still going to end up with that uncomfortable damp feeling.
Galvin Green recognised this issue and made it their priority to come up with a solution. C-Knit golf jackets now feature a soft rubberised collar, made with a fabric which has been designed to stay as close to the skin as possible, without feeling unnatural and uncomfortable. So pop into the shop and try the jacket.